Nile Studio, LLC
Modernist Design Office
@nile.llc
office@nile.llc
Projects
News
Information
Writing

The Other House




Nile Greenberg, Juliana Barton, Ryan Fierro, Matthew Brubracker

Photos: James Florio Photography
The Other House belongs to the world of the alley. This ADU emulates it's neighboring garages, but is a small universe of architecture, a high fence forms its boundary, an oversized roof sits on top of it. The rectangular house is positioned to create four distinct outdoor spaces, the entran

ce porch, the private patio, the living room sun and the event exterior. The interiors articulate the oversized roof, demarcated by a maple datu

m that creates a sense of order and often acts as a storage system. The Other House proposes a specific way of life: private, outside, quiet, physical.







Two Sides of the Border Yale
Nile Greenberg, Ayesha Ghosh, Tatiana Bilbao Estudio
What if we stopped dividing the United States and Mexico into two separate nations, and instead acknowledged them as a single region with shared histories, cultures, and economies? The exhibition starting at the Yale Architecture Gallery presents the work of Tatiana Bilbao's teaching initiative, alongside a photo project by Iwan Baan capturing the conditions of this greater region. The exhibition is designed as a reading room with fabric display tables, linear reading lights and a taxonometric labeling system. The show has been shown at the Yale Art and Architecture Gallery, Aedes Architecture Forum in Berlin and the El Paso Museum of Art.




6397
Nile Greenberg, Sage Rigby


Photos: Naho Kubota
6397 is the first retail location of a new fashion brand. Based on their values to be basic, strong, political and raw, the shop takes a not from the 90s Soho aesthetics. Raw industrial materials, florescent lighting and soft materials combine to make this small shop a minimal space with a directness in character. The store also operates as an art gallery. Showing work exclusively from Creative Growth Art Center.
City Maintenance
Nile Greenberg, Lucy Weisner
Competition Proposal, Unawarded
City Maintenance examines how New York City's low-profile service buildings could be constructed to maintain the city in an expanded way addressing culture, community organizing and events. Rather than the typical masonry buildings, City Maintenance envisions a hybrid of a garden-gallery-storage building that provides space for both utilitarian and cultural services. The project uses an all wood structural system, steel groundscrew foundations and an ultralight polycarbonate and fabric facade. The building's character is as a diaphanous prism sitting on an open plinth, open and closed simultaneously.
Dear Landlord,
Nile Greenberg
Competition Entry, 1st Prize
Dear Landlord, we the tenants write to you today with a proposition: a self-initiated improvement to our building in Downtown Brooklyn– a second home. Our loft building has always hosted a strong creative community; we've shared a rooftop farm for years, and now many of us hope to start families here. This second home would serve our community with a large kitchen and dining area, with a glass wall opening out onto the farm. The home will also provide suites of rooms that offer privacy, silence, and simplicity to our otherwise complex New York City lives. First Prize, City Above the City Competition.
Our House
Nile Greenberg
Competition Entry, Unawarded
1Our House is for everyone to stay together; a steel and cross laminated timber structure; buy a bike; day beds and kitchens only; keep the large pivoting windows open as much as possible; space is dedicated to collective feeling, please maintain this house; please maintain your state of mind, togetherness; take plenty of walks, it always helps; if it doesn't exist in the home, you might want to build it; don't rely on the spot radiant heating, stay warm with clothing and calories first; the bathrooms are minimal, but they have lots of hot water; groom yourself; walk quietly on your toes.
The Advanced School of Collective Feeling
Nile Greenberg, Matthew Kennedy with Laura Coombs
Park Books 2020 Release
The Advanced School of Collective Feeling – Matthew Kennedy and Nile Greenberg explore the impact of physical culture during the 1920s and '30s on the thinking of some of modern architecture's most influential figures. Using archival photographs, diagrams, and redrawn plans, they reconstruct an obscure constellation of domestic projects by Marcel Breuer, Charlotte Perriand, Richard Neutra, Franco Albini, and others. These projects demonstrate how architects responded to the relationship between the body, and the spaces and objects that give it shape. The Second World War brought this movement to an end, but the project of mass emotional culture continues today. Park Books Winter 2020.
Space Object Quantity
Nile Greenberg, Ryan Fierro
Photos: Naho Kubota
Space, Object, Quantity, is a conversation, a list, a performance, a test; it's physical, it's ephemeral, it's an office space, it's a book and it's installation at the OTIS College book fair. As a part of the office space NILE designed for WAX Studios, the office produced a book for the design of the office space that included a table of content and a methodical listing of every object in the office with a unique photograph of each item.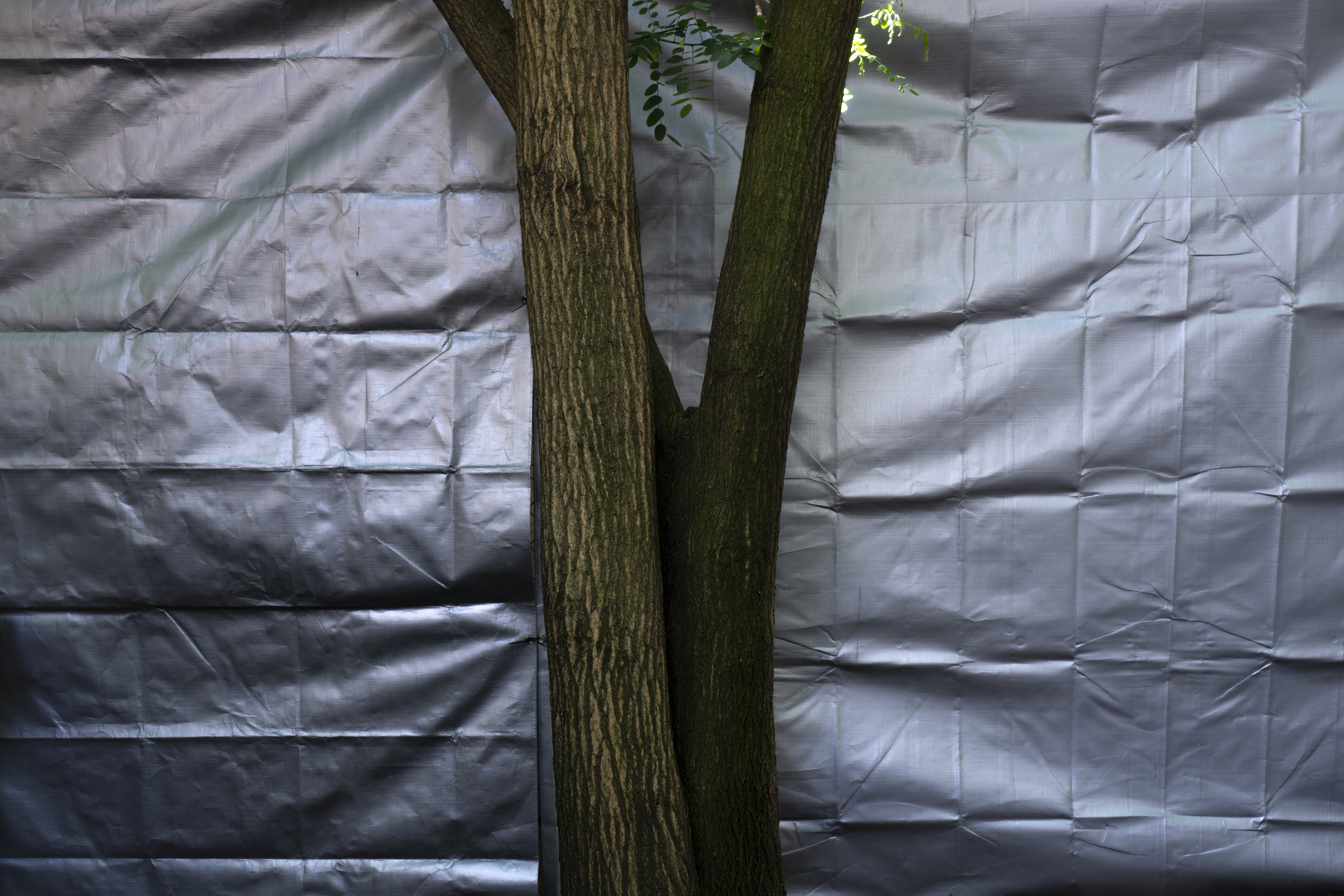 Sunrise/Home Plinth
Nile Greenberg with Laura Coombs
Presented at Storefront for Art and Architecture 24x24x24
Home Plinth – a plinth is a fundamental little act of architecture, it was created for the 24-hour event 24x24x24 at the Storefront for Art and Architecture. A single single honed travertine paver raised just a few inches above the earth with a handrail on three sides. This paver, like those of the Farnsworth House or Neue Nationalgalerie, focuses the viewers' attention in order to survey a horizontal field. Unlike the dirt floor of Laugier's primitive house, raising one just a few inches from the earth seems more fundamental for today's architecture. In a 1-hour event, a shared plinth was presented with the film of a sunrise on a horizon…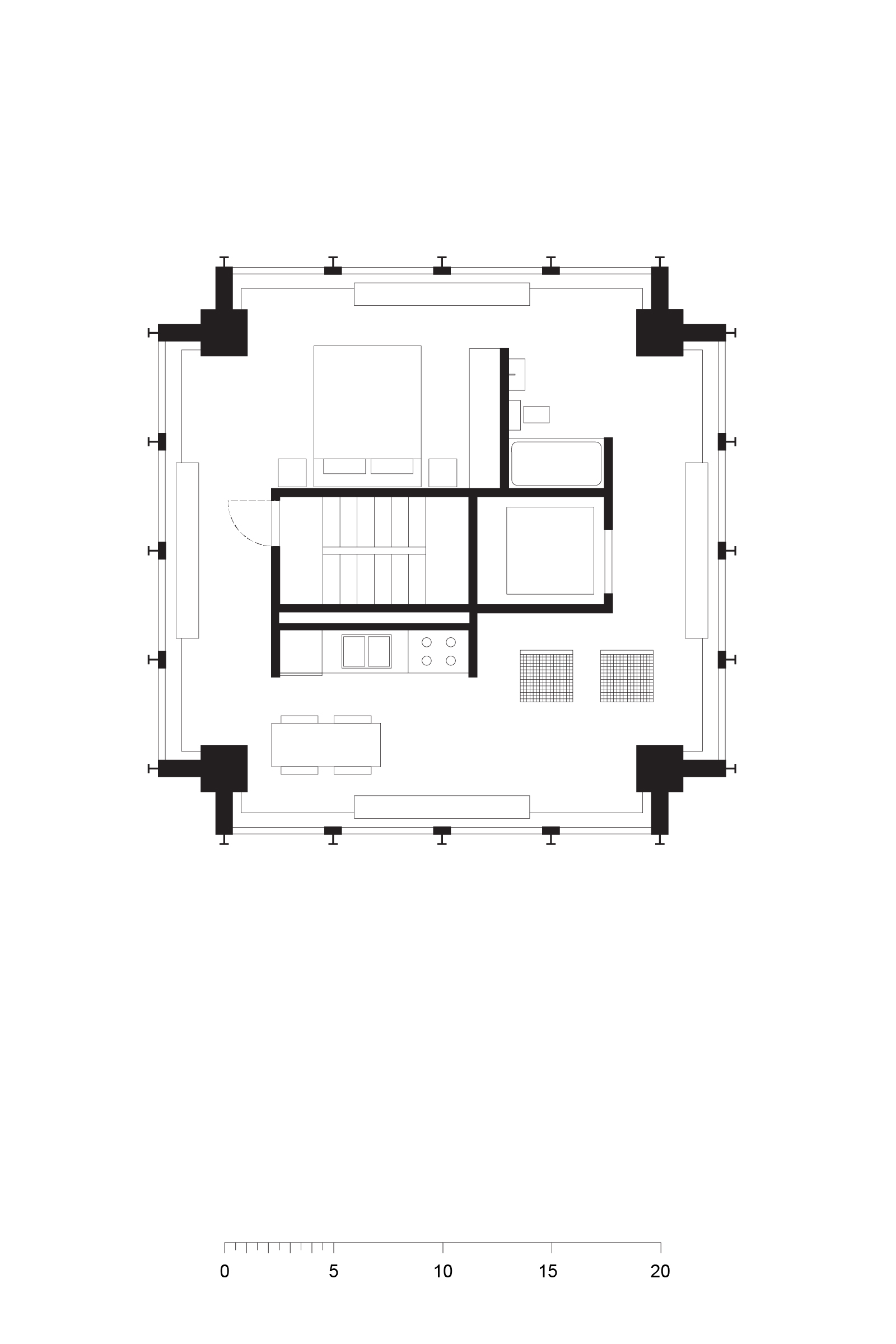 Atop a Beam
Nile Greenberg
Competition Entry, Unawarded


Atop a Beam – a beam is clear construction, it's what remains of the modernist utopia. You can stand on it like Robert Moses and you can sit on it like an ironworker, feet just dangling off of the edge. The beam, when presented in an open and accessible context like an art park changes meaning from structure to architecture. The social impact of the beam is not the forceful configuration of arranged seating, but imagined as an elongated single seat where strangers at various levels of power, opportunity, freedom and energy share an architectural structure.
4 Modernist Corners
Nile Greenberg, Julian Barton
Research for 2017 Seoul Architecture Biennial
4 Modernist Corners define the character of many of the prismatic office buildings by Mies van der Rohe. This iconic corner is often viewed as the object, but instead it is merely the elastic end points to the buildings themselves which are formed with a 20' structural bay divided into 4 parts. Two Mies van der Rohe buildings were built starting around 1959 that use an nearly identical structure, but merely extend the bay. These Mies towers are elastic and nomadic. Elastic, they change length depending on their program requirements and site. Nomadic, they occupy different sites without changes. For the Next Home exhibition in Seoul we proposed a single bay Mies tower that can fit into the small city lots and the steep mountain sites.
Full Scale House
Nile Greenberg
Proposal for a House
Full-Scale House is too small for an institution, but big enough for a house. This design merely occupies an existing model of a larger building, a 1949 facade mockup for the GM Technical Center by Eero Saarinen. This full-scale model communicated between the arts-and-crafts methods of construction and the technical marvels going on at GM. At full-scale, this mockup is a wimpy 5 modules of the unfathomably large and horizontal campus, but as a house, full-scale appears to be an ecstatic residential architecture. Its two glass faces nearly close enough to touch with both hands, but distant enough to form a comfortable space.
RIIS Landing
Nile Greenberg and Our Co (Marlisa Wise, Melissa Frost, Benedict Clouette, Nile Greenberg)
RFEI for National Parks
Riis Landing is a small set of buildings owned by the federal government on the Rockaway Peninsula in New York. As part of a Federal RFEI with Our Co (a cooperative practice), we engaged with a group of potential stakeholders to propose an adaptive reuse of Fort Tilden East and Riis Landing. The project proposes a 3 phase renovation, this first phase restores and clarifies the ground and gardens with a new coat of sand covering the entire property, removing debris and fences to create a continuous surface that reframe the existing site as a campus not a collection of separate institutions.
Newburgh Dog Park
Nile Greenberg, Naomi Hersson-Ringskog, Bryan Quinn
Community Dog Park, In-Progress
Newburgh Dog Park – creating Newburgh's first first dog park would promote exercise, health and wellness. It connects old and new neighbors. It convenes the young and the elders. It mixes different socioeconomic backgrounds. It stimulates foot traffic, increases security, and patronage of local business. With the Dept of Small Interventions and One Nature.
Light Landscaping
Nile Greenberg
Landscape Design/Build
Light Landscaping – stop putting heavy things into the ground, carbon into the air, weight gets transported by oil, and the heavier it is the more oil is used, use less water and make sure it doesn't runoff into the streets, water in the soil should lead back to the aquifers, not our facilities and rivers.